I have been working with Demibooks Composer Pro App to make a picture book story app for Police Hens. This app has animations, sound effects, read aloud function, parents and teacher section and a MUSIC VIDEO. I actually persuaded my brother to sing the entire Police Hens story and then I put the animations that I had made for the app together to make a music video. I used Animation HD on my iPad. It is AWESOME – if I say so myself!
This is my picture book app's icon. This is a close up of Cluck-Cluck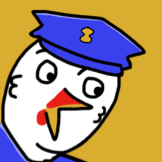 This will be available at the App store soon.